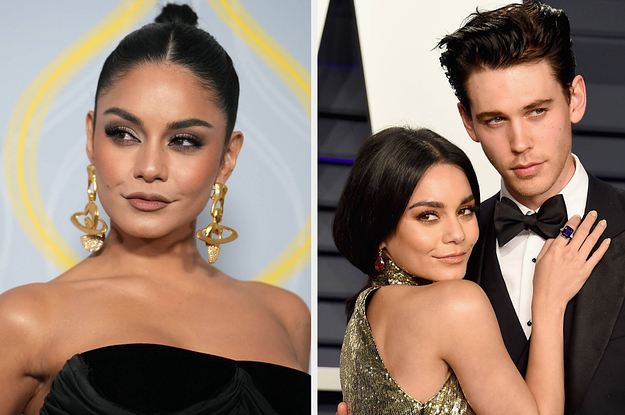 If you're a fan of Vanessa Hudgens, you probably know that she played a key role in her ex-boyfriend Austin Butler's decision to play Elvis Presley.
In fact, she was the one who encouraged him to take the job in the first place after realizing how much he resembled the late rock 'n' roll icon.
"It's so crazy because last December we were driving and listening to Christmas music, and then an Elvis Presley Christmas song came on," she recalled during a 2019 appearance on Live with Kelly and Ryan.
"He had just dyed his hair dark – he's naturally blonde – and I was looking at him and he was singing along and I was like, 'Babe, you need to play Elvis,'" she shared.
Vanessa continued: "So in January he was sitting at the piano – he's a musician – and he was playing and singing and I was like, 'I don't know how, but you need to figure out how you can play Elvis. . Like, I don't know how we get the rights or what we do, but you gotta play it.'
Lo and behold, Austin ended up landing the role of Elvis in the Baz Luhrmann biopic, which came out last summer. However, he and Vanessa broke up while the film was in the works, with reports claiming it was "a matter of distance" that resulted in their split after nearly a decade together.
After the release of the movie, Austin got huge success thanks to his amazing performance.
However, fans noted that he avoided publicly crediting Vanessa for her contribution to the whole thing.
For example, at last week's Golden Globes, Austin accepted the award for Best Actor in a Motion Picture – Drama. When thanking everyone from Denzel Washington and Brad Pitt to Quentin Tarantino and the Presley family, he didn't mention Vanessa.
This wasn't the only time he failed to mention Vanessa in reference to Elvis' role. Last week, Austin went a step further and recounted the story of how she encouraged him to take the role, but he didn't mention her name.
"So I was looking at the Christmas lights and there was an Elvis Christmas song on the radio," Austin told Colin Farrell, Brendan Fraser, Jeremy Pope, Ke Huy Quan and Adam Sandler during the Hollywood Reporter Actors Roundtable .
"I was with a friend of mine and I was singing along, and my friend kind of looked at me and said, 'You have to play Elvis,'" he recalled.
"A few weeks later I was playing the piano. I never sang to any of my friends or anything like that," he continued. "That same friend was there and I was playing the piano. She said, 'I'm serious. You have to figure out how you can get the rights to a script.'"
Austin referring to Vanessa as an unnamed "friend" angered a lot of fans, especially considering the film's success since its release.
And it was only a matter of time before Vanessa joined the conversation.
Leaving a short but sweet comment on an Instagram post about Elvis' deep Southern drawl from Austin, which he has continued to speak in since filming ended, Vanessa wrote, "Crying."
Some people praised the actor for responding so candidly to the news about his ex, especially considering he didn't give her credit for encouraging him to play Elvis.
"Vanessa Hudgens shattered Austin Butler's 20-year-old Elvis impression with one word," said another.
"I love her even more for commenting on this," another person added.
However, others questioned why Vanessa felt the need to drop the comment entirely, calling it all unnecessary.
"But why did she find it necessary to do this? I miss girls who are a little obsessed…", someone wrote.