forest scenery and forms of cultural context spa RESORTS in Thailand
Bangkok-based architecture studio Design in Motion completes the renovation project spa and resort plane in Ko Samui, thailand. The architectural concept is established by two impressions taken from the existing site visit. Nestled in a rainforest amongst abundant vegetation, the site shades under dense tree branches and leaves, allowing some sunlight to pass through and creating intricate moving shadows on the ground. Impressed with the natural element that pervades the building's site, the design team set guidelines that shape the concept by reflecting the forest's growth stages, the 'forest floor' containing various small plants such as moss and fern, as well as roots of trees, the 'understory' with trunks, shrubs, vines and vines, the upper 'canopy' layer with tree branches and overlapping leaves, and the 'emergent layers' covering the rest with trees rising above the natural vegetation.
The second notable element that shapes the project is the popular culture and vernacular architecture that define the region. The building materials selected for the renovation are locally sourced and natural, such as wood and wood, rammed earth, and wickerwork or basketwork with a local glassy plant from the sedge family called 'Krachoot'. The distinct native direction is also cohesive in the furniture design. The resort's reconstruction approach therefore focuses on the fertile land and visual cultural context.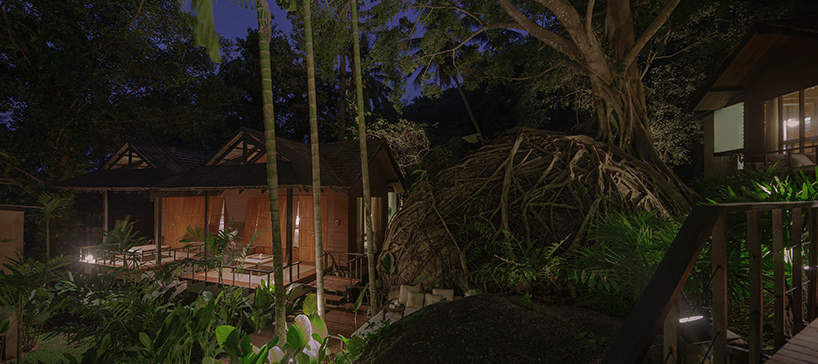 village | all images by Soopakorn Srisakul
Design in Motion plan achieves optimal space management
The three types of buildings in the existing building, including the villas, the lobby and the restaurant, needed to be renovated in line with the conceptual design principles and optimize the resort in terms of circulation, spatial design and comfort. Starting with accommodation units, the design team adjusts the views of the existing pensions taking into account the limitations that the main pedestrian route presented. Regulating the issue of privacy, the plan assembles the 'chão da mata', one of the layers of the forest, and surrounds the rooms with a group of bushes and trees. Serving as natural blinds, the green elements awaken an essence of living in nature.
Consequently, there are three 'green rooms' formed in each villa. The living room and dining room are arranged in outdoor and semi-outdoor space, respectively, adding terraces to the structure, while modifying the old solid roofing material into transparent to generate more natural light. The rooms located in each unit have wooden awning windows that open onto the rich vegetation. The furniture design is based on folk customs, featuring the pattern of sitting on the floor, leaning on a local lower seat called 'tang', and sleeping on a local lower bed called 'krae', leading to the cultural value of the concept.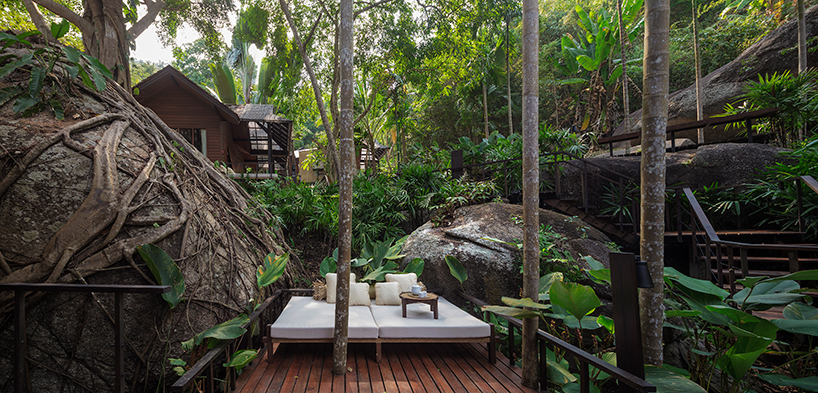 sofa bed in the forest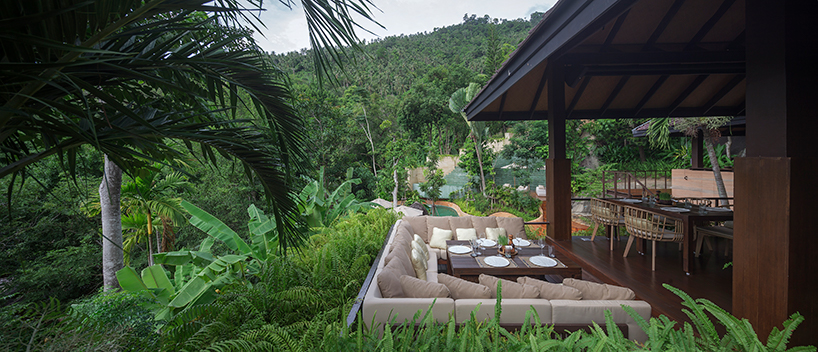 dinner near the hotel pool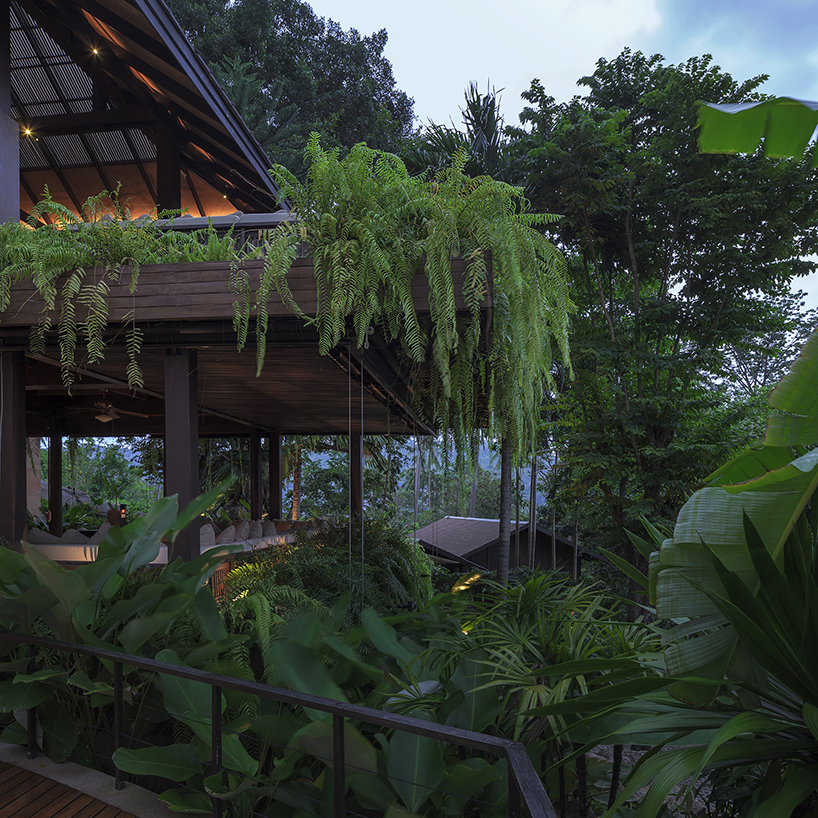 restaurant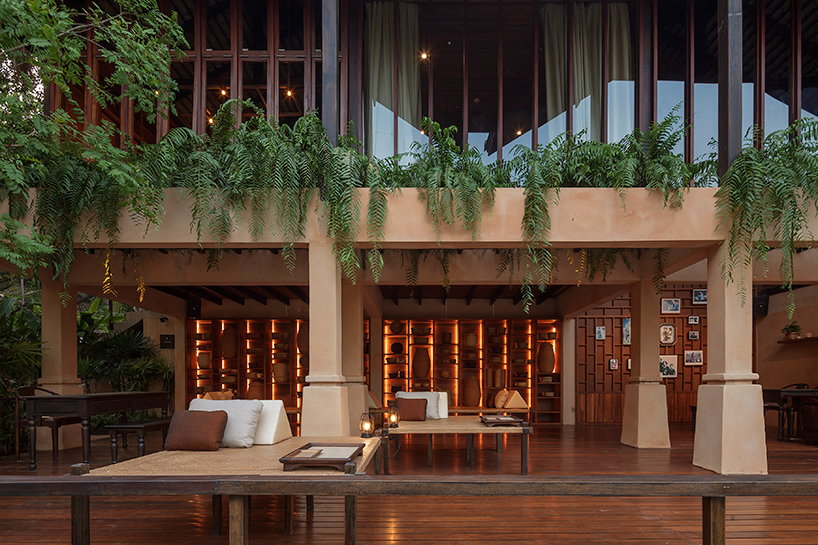 Hall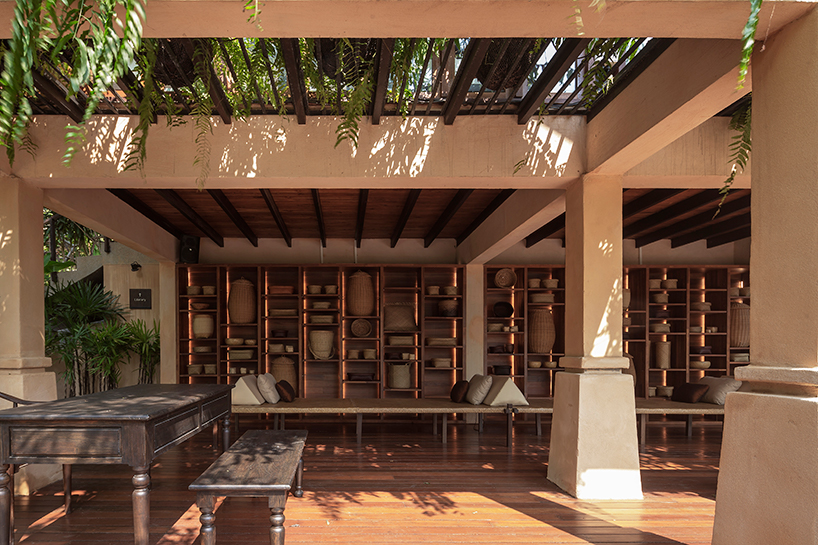 living room in the shade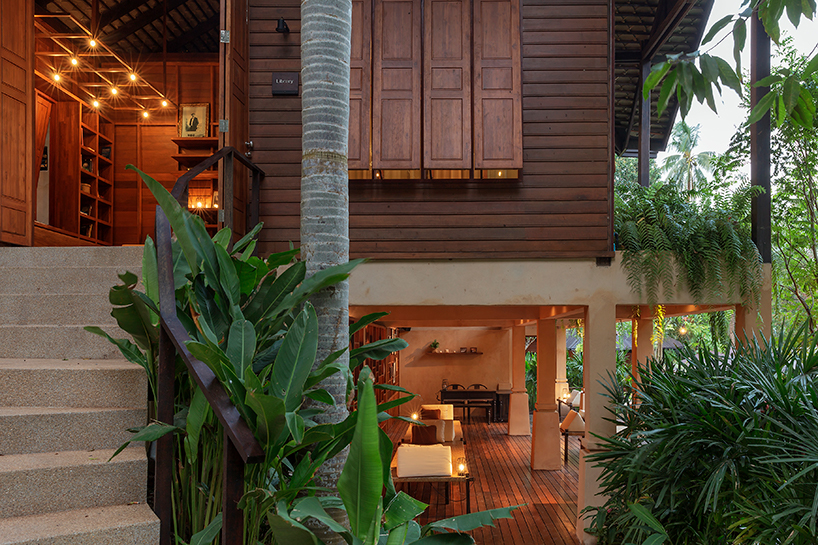 Front desk