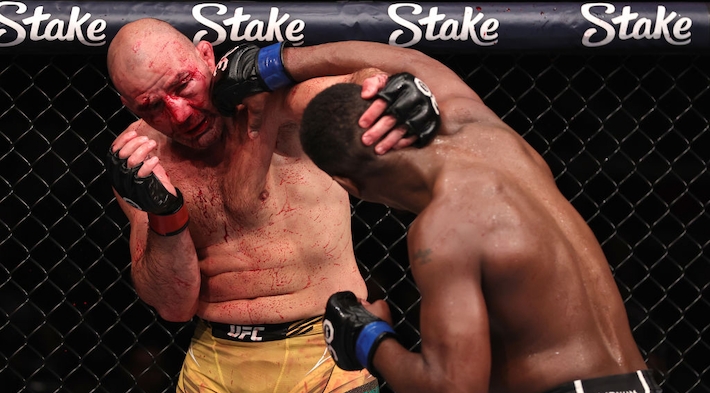 After Magomed Ankalaev and Jan Blachowicz fought to a controversial split draw at UFC 282, the promotion was determined to fill the light heavyweight spot and quickly switched to Glover Teixeira and Jamahal Hill in the main event of UFC 283.
On Saturday night, there was no doubt who would be the next champion as Hill (12-1) defeated Teixeira (33-9) with a unanimous decision victory to take the gold.
Teixeira soon went for the takedown, but Hill countered and kept the former champion at bay. Hill landed some knees to the head from the clinch and low kicks to avoid the level changes. Teixeira landed a calf kick that seemed to bother Hill late in the round, but Hill returned to combinations on top.
Hill rocked Teixeira with a hard kick to the head in the second and backed the former champion against the cage, looking to close out the game with shot after shot. Teixeira recovered his legs and headed straight for Hill, opening up a cut at the finish. Hill fired a hard kick to the head again, but Teixeira kept his feet and followed with his first successful takedown of the night. Teixeira took Hill's back, but Hill switched to guard. Teixeira tackled Hill to the ground and moved into side control as Hill slid to sit against the cage. Hill escaped Teixeira's clutches and got back to his feet. Teixeira continued to advance while Hill launched counterattacks by moving backwards.
Hill sent Teixeira from the back to open the third and Teixeira fought Hill as best he could from the back. On his feet, Teixeira continued to move forward and Hill's conditioning started to become an issue. Teixeira went for his jab over and over again, while Hill loaded up with big shots authored by him.
Hill was rejuvenated by opening the fourth, mixing jabs and coming back for his head kick. Teixeira landed a big uppercut that looked to hurt his opponent, but he couldn't follow up with anything concrete. Between rounds, Teixeira's corner discussed stopping the fight, but ended up not doing so.
In the fifth and final round, Teixeira took Hill to the cage and got a takedown. From lateral control, Teixeira moved to half guard and then to mount. Hill went under Teixeira and got a takedown. With about a minute left, Hill stepped up and allowed Teixeira to get to his feet before the final bell rang.
The light heavyweight title scene has been in disarray since Jiri Prochazka vacated the belt due to a shoulder injury that required surgery and would have put him out of action for six months. Teixeira, who was scheduled to face Prochazka in a rematch following his submission loss, reportedly turned down a title opportunity and a last minute switch to fight Ankalaev. Instead, he requested a move a month later to UFC 283, which was turned down, and the final showdown at 282 was handed to Blachowicz. On Saturday night, he fought on his terms in his first return to the Octagon since losing last June.
Hill embarked on the biggest fight of his career on a three-fight winning streak, finishing former title contender Thiago Santos with a fourth-round TKO.