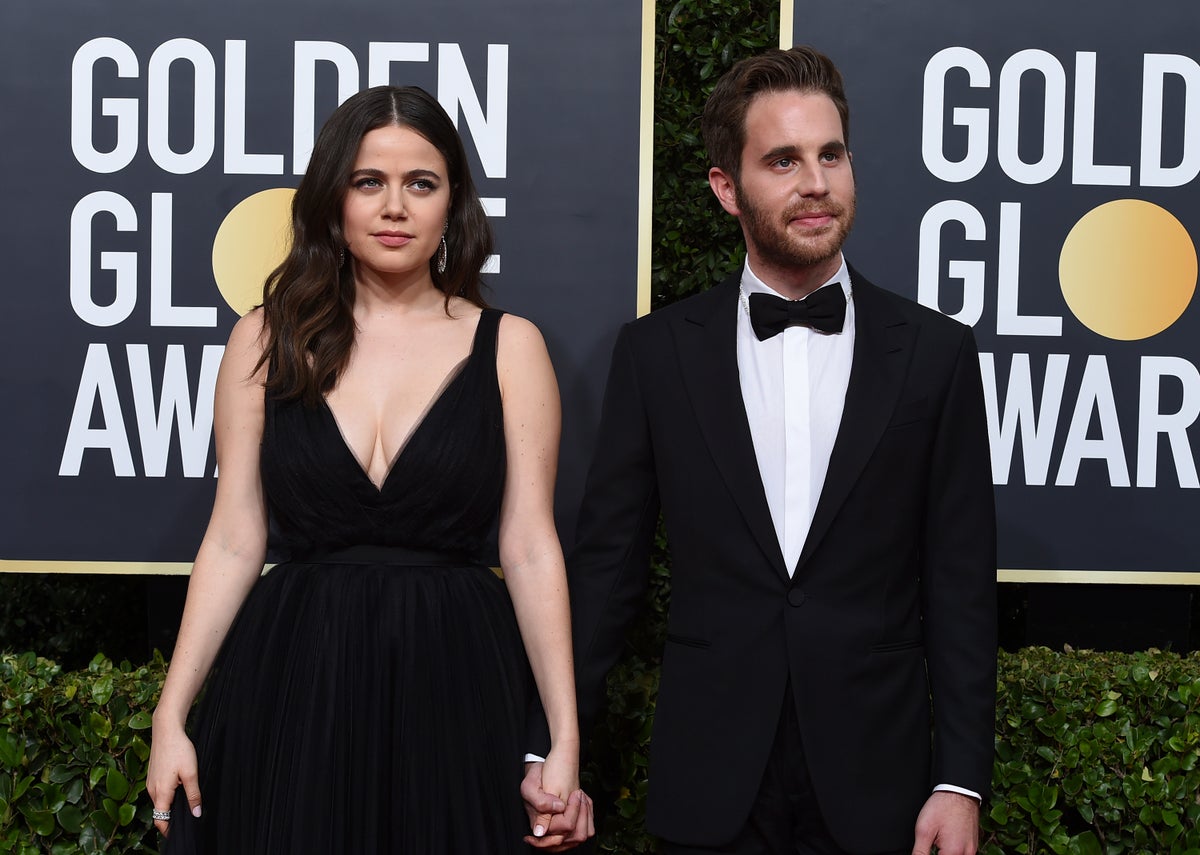 There's a bit of history among the team behind "Theatre Camp," a loving satire of musical theater kids and their teachers that premieres Saturday at the Sundance Film Festival.
Molly Gordon, Ben Platt, Noah Galvin and Nick Lieberman are first and foremost theater kids. They are also longtime friends. Lieberman has been doing things with Platt since they were in high school. Galvin and Gordon are best friends and did a play together about a decade ago. And Galvin and Platt are engaged.
It's Platt and Gordon's relationship that extends the furthest, though. Both sons of parents in the entertainment industry, they have been friends since they were 3 years old.
"I was deeply in love with him," laughed Gordon in a recent interview with his collaborators. "He came out to me and didn't want to be with me, but I still tried for years,"
The intricacies of all their collaborations, music workshops, web series, comedy videos, and hours of improv would require a flowchart to fully process. But what matters is that when the four met, they didn't want to part.
About five years ago, they found themselves in a moment between projects and decided that they would finally do something together. So they "stole" some kids from Galvin's former performing arts school in Manhattan and put together a short film about a musical theater camp.
"It felt like the most natural world for us to jump in together as this comedy collective for the first time," Platt said. "We all felt like it really suited us tonally and emotionally. It was exactly the kind of thing we wanted to do. (The short) was a pretty quick moment, really, really, really cheap and fast. But it definitely set off an alarm in all of us."
A few years passed before they got the green light for the feature, helped by Picturestart and Topic Studios, as well as Jessica Elbaum of Will Ferrell's Gloria Sanchez Productions, who met Gordon and Galvin during "Booksmart."
"I'm such a nerd, so I knew who Jessica was," Gordon said. "We had lunch one day and she said, 'I feel like you want more than that. I feel like you want to write stuff.' She did that to Noah too. She is very good at identifying people who want more."
"Theatre Camp" is the debut of Gordon and Lieberman. They and Galvin are also credited with the screenplay, and everyone except Lieberman acts in the film. The premise is that a documentary crew has come to make a film about a run-down but beloved camp in upstate New York, AdirondACTS, directed by Amy Sedaris's character. In the first few minutes she has a seizure and her son, a financial brother (Jimmy Tatro), steps in to try to run the camp. Gordon and Platt are camp teachers and alumni, while Galvin is a coach with unknown talents.
"We don't usually give tech people a voice," Galvin said.
Almost all of the film's scenarios are based on things that happened to them or stories they heard from friends.
"Theater is a world of people so absurd and in their own worlds. You can get away with them by doing things that are ridiculous," Lieberman said. "But you also want to find a way to ground that."
"The Bear" revelation Ayo Edebiri plays a new hire, who tries to hide the fact that she has no experience teaching musical theatre.
"We all have teacher moments that are so formative and meaningful and also downright absurd," Platt said.
Even though all 20-somethings have been in the business most of their lives, making "Theatre Camp" was still a baptism by fire in some ways. They had just 19 days to shoot, which they did last summer at a defunct camp in upstate New York, and then had to feverishly edit the film to get it a cut for Sundance in time for this year's festival. This was further complicated by the fact that "Theatre Camp" was also largely improvised.
"There are about 47 different versions of this film. Some of them are bad, some of them are good," Gordon said. "But how Christopher Guest edits for a year!"
Still, the set was a happy place, and everyone was concerned to make sure it was a fun experience, especially for their young co-stars. Some of their favorite moments were at school plays and theater camps and they wanted to recreate that.
"It felt like being in a real theater program," said Gordon. "Even if they screw up, it can turn into a beautiful moment. I think everybody was scared when we were releasing this movie. How will the children improvise? And they improvised around all of us. They were amazing."
The truth and story in "Theatre Camp" runs deep, from actual footage of Platt and Gordon performing together as children, to some more dramatic elements where the codependent friends bicker.
"I felt totally, completely free to be intense and nasty and funny and weird and all the necessary things in a way that I don't think I've ever experienced," Platt said. "We've all been a part of things where the production didn't really live up to what the project was. And even though it turned out beautifully, there was something challenging or difficult about doing it. The fact that people can look back on that separate product experience and think, 'That was so much fun and I'll remember it positively' is the best thing."
At the moment, the "Theatre Camp" team is just looking to get the film to the public (it's on sale at the festival). And whatever happens, it's an experience they'll love.
"There will never be another like it," Platt said.
___
Follow AP film writer Lindsey Bahr on Twitter: www.twitter.com/ldbahr.