'A new park in the sky' for London
The first phase of Camden Highline — a new elevated urban park in London — has been granted planning permission.
Running for 1.2km of disused railway track between Camden Town and King's Cross, the project sees a green connective line that will offer verdant spaces to Londoners introducing a new attraction for the capital. The high-line-style park is predicted to bring new local green space for 20,000 people, increase the ecological value of the site, and boost Camden's biodiversity.
'The Camden Highline has captured local imaginations. It urges us to broaden the horizons of what's possible within our cities and is exactly the sort of innovative, environmentally sustainable, and community-driven project which will continue to benefit and inspire generations to come. This vision will also bring huge enterprise opportunities to local small business, helping to build a better, greener, and more prosperous London for everyone. I look forward to following the Camden Highline on its journey and to walking in London's own park in the sky,' comments
Mayor of London, Sadiq Khan.
Camden Highline visualization ground level view © Hayes Davidson
introducing more green spaces into inner-London areas
Started as a crowdfunding campaign four years ago, the initiative is led by architects and designers of the New York High Line (see more here) — James Corner Field Operations (more here), local architecture practice vPPR (more here), the Camden Highline team (here), and community engagement specialists Street Space (here). Informed by woodlands, productive gardens, meadows, and ancient British hedgerows, the planting, headed up by renowned garden designer Piet Oudolf, in close collaboration with the London Wildlife Trust, will usher visitors into a 'series of distinct ecosystems and experiences'.
The first phase spanning between Camden Gardens and Royal College Street can now move on, while the two other sections (from Royal College Street to Camley Way, and from Camley Way up to York Way) are still waiting for planning approval. 'Each section of the Highline will differ in character, in direct response to the different neighborhoods, contexts, and conditions through which it travels, to give a true reflection of Camden's unique identity. Interactive design features, including a children's play zone, volunteer-run allotments, and an outdoor classroom, will come together to create a sense of urban exploration and discovery, while balconies will connect the park to the urban street life below.'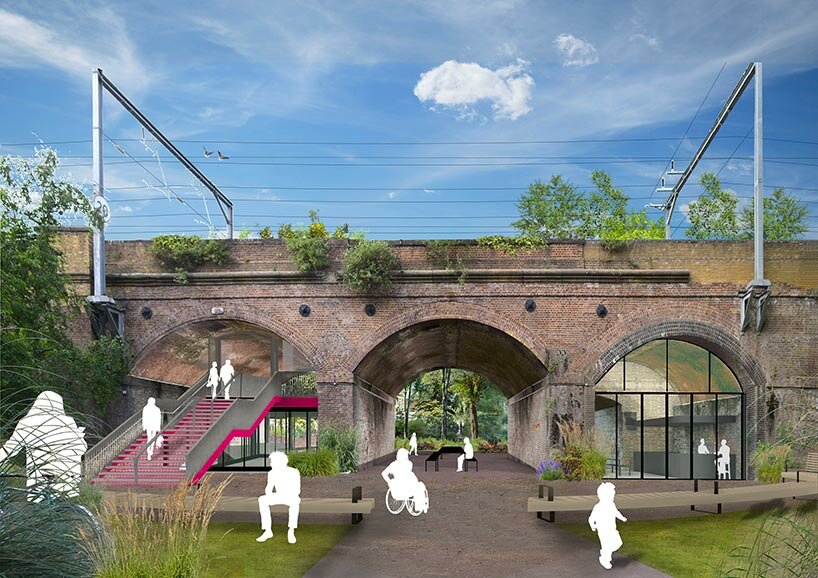 Camden Highline South Elevation © vPPR-JCFO
Along the park's length, an architectural screen filled with nesting sites, greenery, and transporting windows will separate the green oasis from the active rail line while offering a coherent design language to the overall route. 'The access points to the park, at Camden Gardens, Royal College Street, Camley Street, and York Way, will be fully accessible, with a potential fifth additional stair at St Pancras Way.'
Moreover, section one will host a transparent scenic lift or stairs that will guide visitors through a tree canopy onto a floating gantry, offering sweeping panoramas over the park and the Victorian railway viaduct. The project is expected to deliver 200 construction and 116 new long-term jobs, introduce green spaces for the capital, and strengthen its profile as 'one of the world's leading visitor destinations'.
Now that planning permission has been granted, the Camden Highline charity is looking for financial backers to come on board to support the £14m cost of the first section of the project and get construction work underway. 2025 is the aimed opening date for the first section.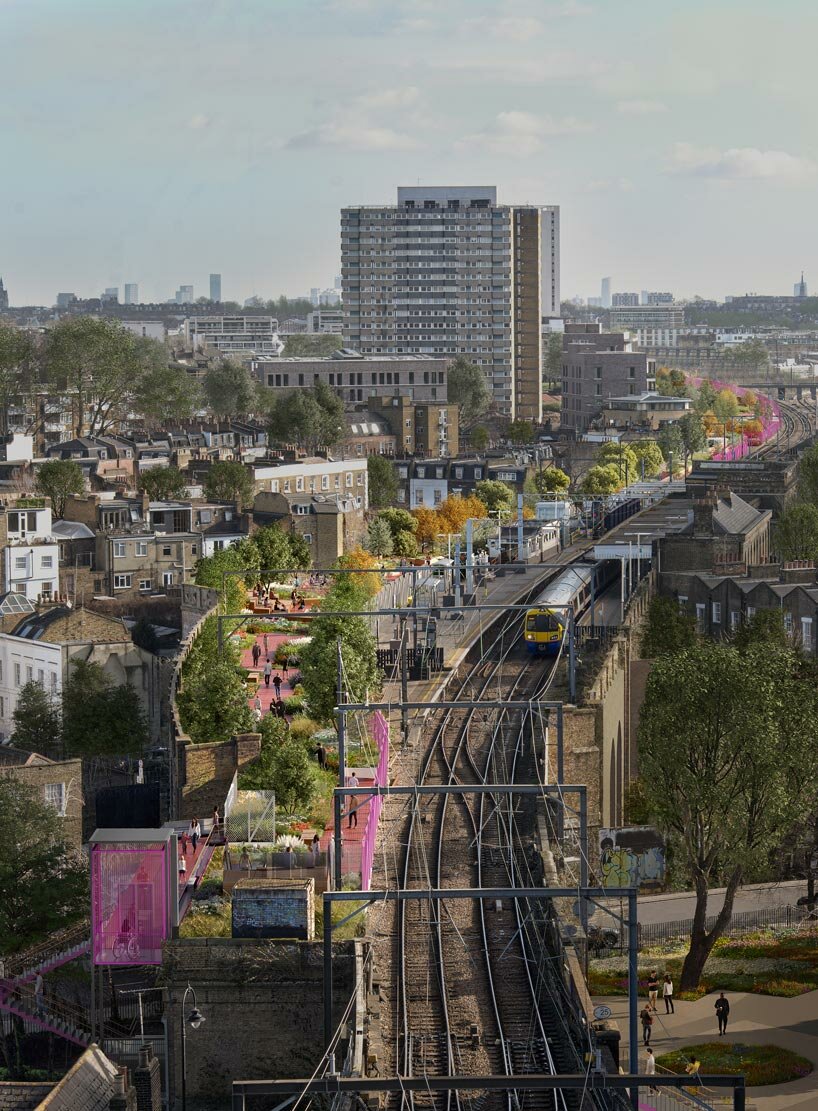 Camden Highline aerial view visualization © Hayes Davidson
'I live and work within a few hundred meters from the Camden Highline and I see it as local walk you can do with the family, joining up the canal and Coal Drops Yard into a single loop. It would be a place to go and bump into friends, forming a central spine of the community. A small section of it threads through the private residences of Camden but the longest part of it serves a number of housing estates and parts of London which don't currently have any access to local green space. I'm very excited about how the Camden Highline will bring Camden together through a beautiful, shared asset,' mentions Lead Architect, Tatiana von Preussen of vPPR.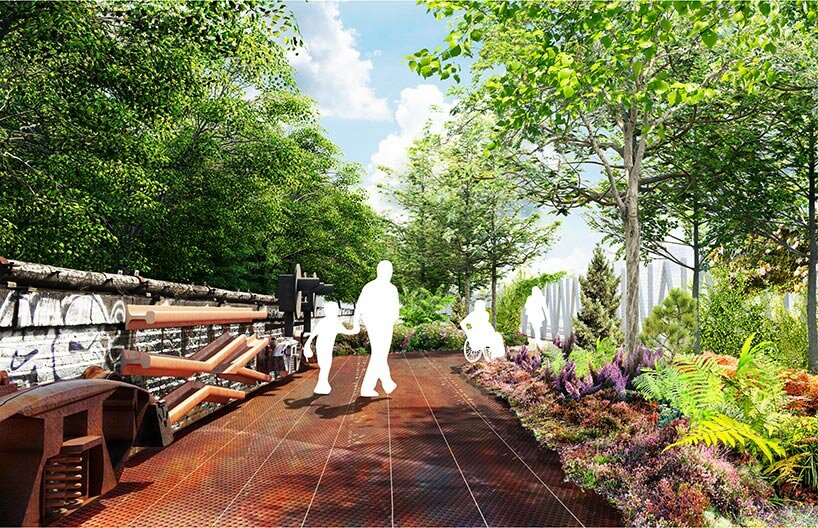 Camden Highline ©JCFO Artefact Wall
1/6
Camden Highline ©JCFO Camden Road Bridge Catwalk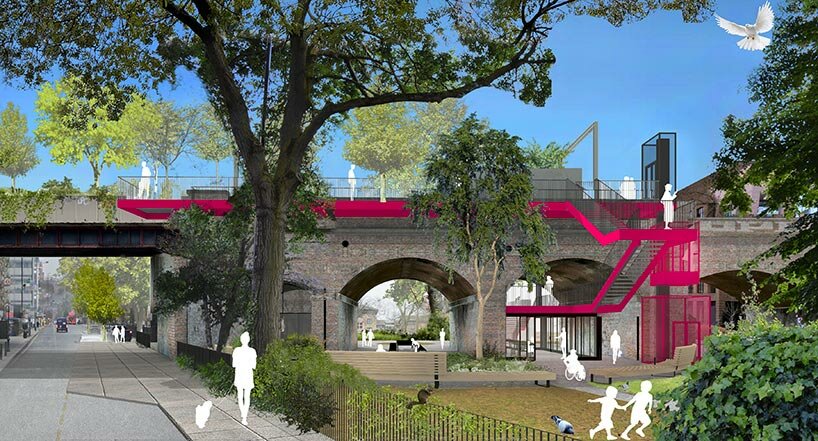 Camden Highline ©vPPR-JCFO North Elevation
Camden Highline ©JCFO Woodland Seating Grove
Camden Highline ©JCFO Trainspotting wall
Camden Highline ©JCFO Overlook
Camden Highline ©JCFO Artefact Wall
project info:
name: the Camden Highline
location: Camden, London
design team:
lead consultant: James Corner Field Operations
architecture: vPPR Architects
planting design: Piet Oudolf
art: Hew Locke
engagement: engagement Street Space
lighting design: Speirs Major
railways: Tony Gee Engineering
engineering: AKTII
cost-modeling: Rider Levett Bucknall
sustainability: Atelier Ten
identity & wayfinding: Pentagram
heritage: Authentic Futures
planning: lichfields
construction planning: Avondale Consulting
ecology and biodiversity: London Wildlife Trust
christina petridou i designboom
Jan 21, 2023